Beacon Power offers the largest selection of utility lighters on the market. Also known as multi-purpose, grill or torch lighters, these handy items are ideal for lighting barbecue grills, fireplaces, candles, fire rings, RV appliances, campfires, camp stoves, pilot lights, chiminea and chafing fuel. Beacon Power lighters meet or exceed all of the stringent safety, performance, child resistant and transportation requirements set by the American Society for Testing and Materials (ASTM), the International Standards Organization (ISO), The U.S. Consumer Product Safety Commission (CPSC) and the U.S. Department of Transportation (USDOT).
Beacon Power's superior line of Striker Lighters includes the PowerStriker™, the SuperStriker™ and the Flexstriker™.
PowerStriker™
The PowerStriker™ is a premium lighter. It is available in either a single, twin or triple pack, and is offered in counter displays, floor displays, power panels and open stock.
Adjustable flame.

Large Fuel Capacity.

Ergonomic styling.

ISO 9001 quality.

Handy storage eye.
SuperStriker™
The SuperStriker™ is our jumbo model, with the largest fuel capacity in the industry.
The same quality and performance pedigree as the PowerStriker™.

Available both in regular flame and our high performance wind resistant ignition.

Comes in single or twin packs.

Counter displays, floor displays, power panels and open stock available.
FlexStriker™
The Flexstriker™ is a patented, revolutionary new utility lighter. It has a fully bendable nozzle that makes hard-to-light situations a snap.
Extra-long nozzle gives greater reach.

Folds and locks for easy storage – tool box size.

Great for hobbies and crafts.

Ergonomic, textured grip with visible fuel supply.

Perfect for lighting those jar candles.

ISO 9001 quality.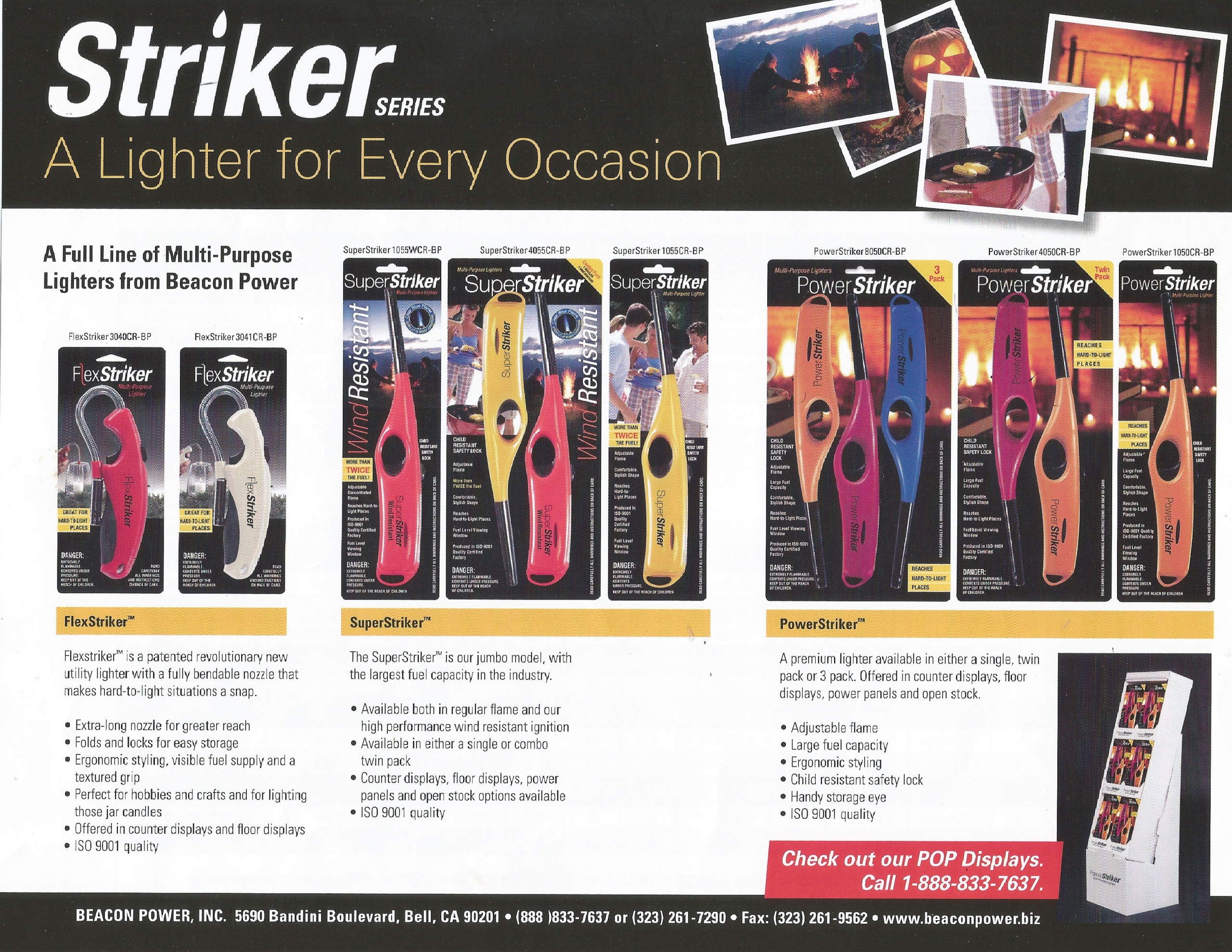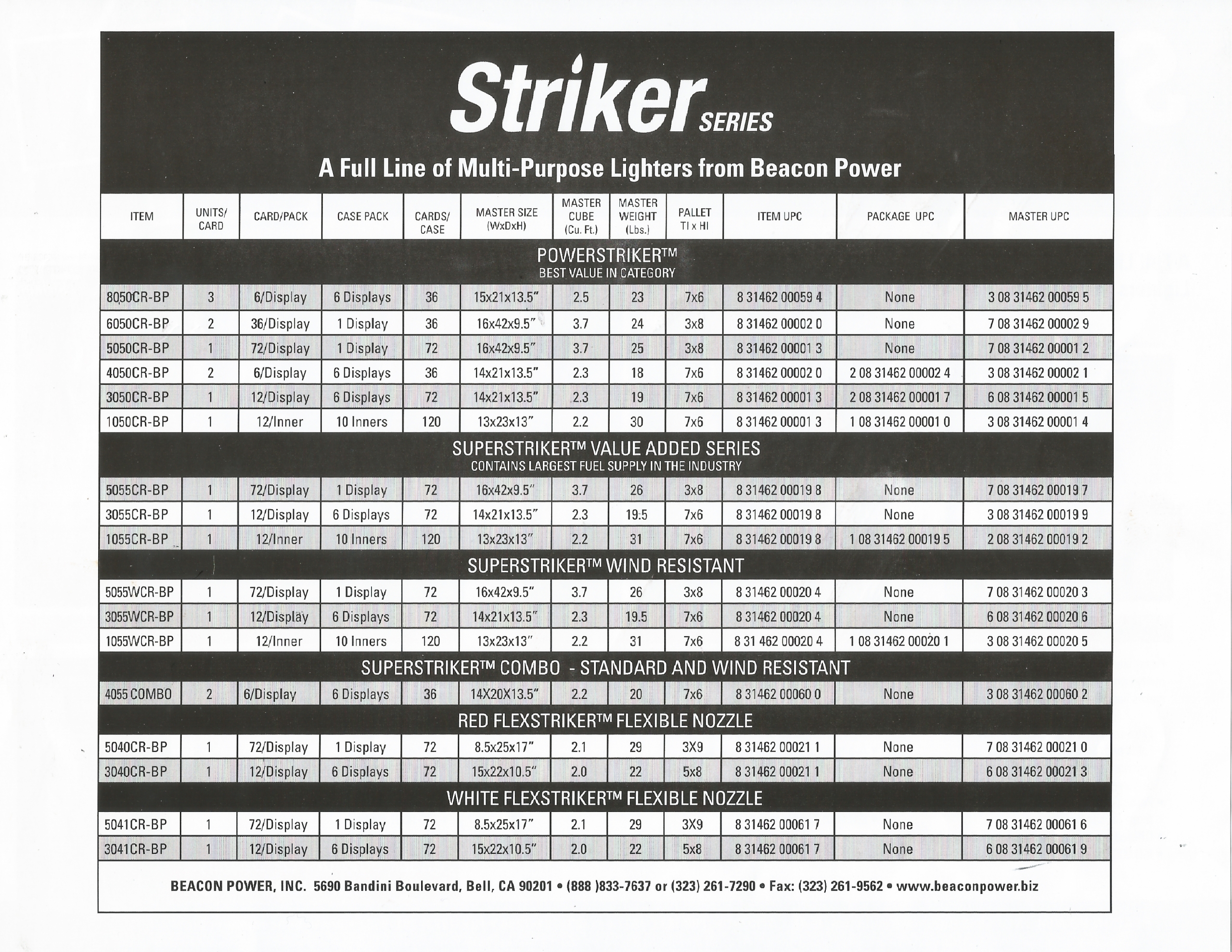 Safety Flame® sets the standard for elegance, utility and quality in the multi-purpose lighter category. A leading designer in the hearth, patio and BBQ industry developed these "up market" lighters.
Long reach nozzle.

Visible fuel supply.

Safety grip handle.

Storage hook.

Available in standard, wind resistant, flexible nozzle and wind resistant flexible nozzle models.

ISO 9001 quality.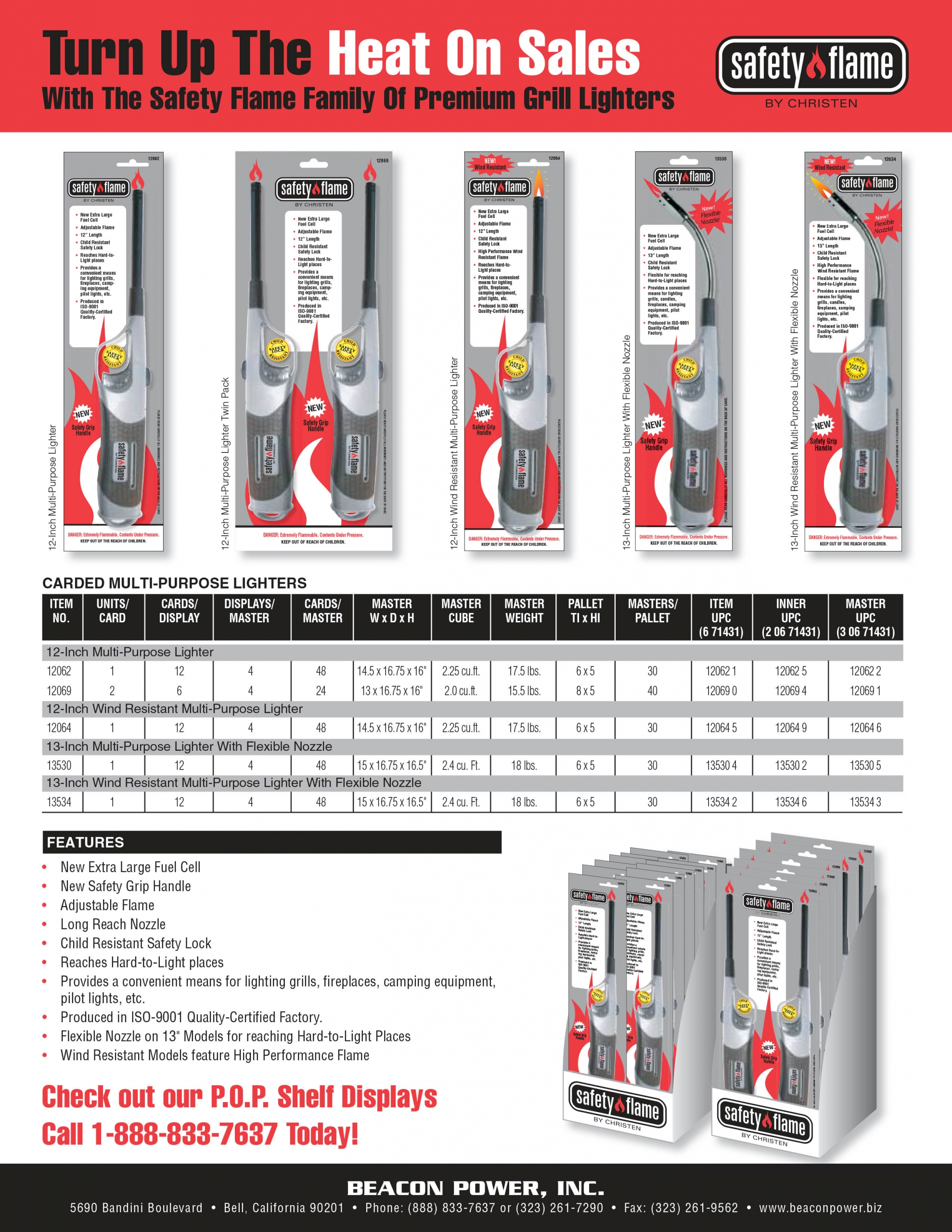 The ValueStriker™ line is engineered for top value and lowest cost.
Refillable.

Electronic Ignition.

Adjustable flame.

ISO 9001 quality.